Fritz Fredrick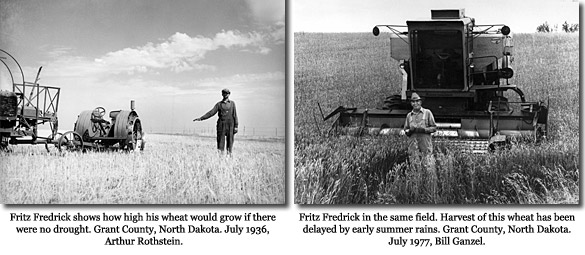 This is one of those photographs that needs words to provide the context. Fritz is showing "how high his wheat would grow if there were no drought." Words can provide other kinds of context, as well. In 1933, North Dakota had the lowest per capita income in the United States – $145 a year when the national average was well over two times higher at $375. The rest of the Great Plains states were not far behind North Dakota. That's one of the reasons that I chose to focus my project on the 10 states of the Great Plains and those folks who left during the Depression. To see and hear Fritz in portions of his oral history interview click here or on the pictures above.

Before the Great Depression, farmers like Fritz went through terrible cycles of prosperity and desperation. That year, Fritz planted his wheat with all the hope in the world. The drought hammered the crop down, and Fritz "I just picked it up and I used that for just chicken feed." Because of the Depression, Franklin Roosevelt's New Deal instituted a new farm program that propped up commodity prices in exchange for holding out some acres from production. That same approach has essentially come down to us to this day.
Whether in 1936, 1977 or today, farmers struggle with costs they can't control and prices they can't predict. Sometimes, it seems to be almost a mystery why they stay, and fewer and fewer do. Those who have stayed produce more and more food for the world at less and less cost. That's the miracle.