William Huravitch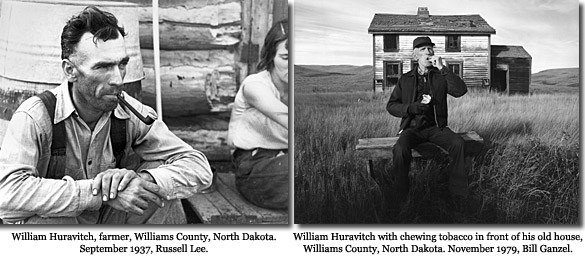 I love William Huravitch. This is a guy who punched holes in a bottle cap and put that over the bowl of his pipe because, if he didn't, sparks would jump out and set his pasture on fire. It was that dry in Williams County in 1937. But in the most laconic voice possible, he uttered the understatement of the decade – "Oh, yeah, we had a drought out there." Like it was no big deal. To see other photographs of William and portions of his oral history interview click here or on the pictures above.

William also had weird ideas about oral hygiene. He believed in the preservative power of chewing tobacco. And I can testify that he did have all of his teeth. Of course, they were the color of chewing tobacco and all the time I was talking with him there was a stream of tobacco leaves wafting my way.
William never really got out of poverty, but he seemed very happy. He, like many who lived through the Depression, said, "We were poor, but we were all in the same boat." If he and his neighbors had no money, someone still had a fiddle, and someone else had enough to bake a pie. Pretty soon the neighbors had a party. That says something about the resilience of the human spirt.